Rusty's Bar-B-Q Voted Best Mom & Pop Bar-B-Q in Statewide Competition!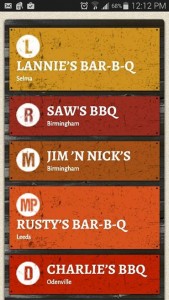 "The hickory smoke has cleared!" as the Alabama Board of Tourism announced on September 1st the winners of the Alabama Bar-B-Q Battle.
A solid month of campaigning has (finally) come to an end and all of the hard work seems to have paid off! The Alabama Bar-B-Q Battle was a month long contest that ended on August 31st and Rusty's Bar-B-Q was crowned the winner for the Mom & Pop category!
According to the Birmingham Business Journal, (and Yellow Hammer News, and AL.com) over 1 million votes were cast during the competition.  We are honored to receive such high recognition. Thank you to all of our awesome family, friends, and customers for voting more than 28,000 times! Most importantly, thank you to our wonderful crew for everything that they do on a daily basis to make this The Best Mom & Pop Bar-B-Q Restaurant in the State of Alabama!