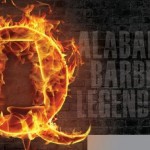 Q: Alabama Barbecue Legends Now Showing!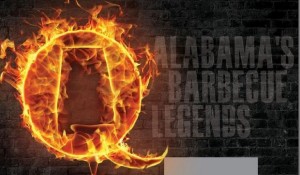 Rusty's Bar-B-Q has been given the star treatment! The restaurant, along with owners Beth and Rusty Tucker, are featured prominently in filmmaker Norton Dill's new documentary, Q: Alabama's Barbecue Legends. The film, produced by the Alabama Tourism Department as part of The Year of Alabama Bar-B-Q, has gotten notice from filmmakers, journalists, and food enthusiasts!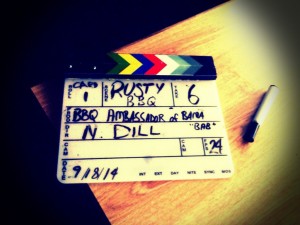 The documentary shows Bar-B-Q joints and their pit-masters throughout the state, from Decatur to Gulf Shores. There's actually quite the variety of Bar-B-Q to be found here in Alabama, and there is so much competition that the food has to be excellent – folks here know Bar-B-Q. The film explores topics such as the history of Bar-B-Q in the area, the unique Bar-B-Q business, and types of meat and wood preferred. It even focuses on one of our favorite areas of expertise – dessert!
An exclusive preview screening of the film was shown at the Atlanta Food and Wine Festival in May. Then, it officially premiered at the Sidewalk Film Festival in Birmingham on August 29 at the historic Carver Theater.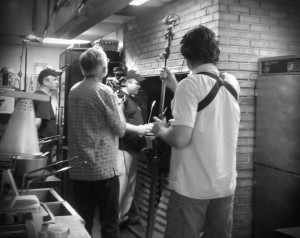 Alabama Public Television has been airing the documentary, beginning on Labor Day weekend – a big Bar-B-Q holiday, of course. That Sunday night, Rusty's hosted a viewing party at the restaurant, and Rusty's parents held a small family gathering at their home to watch it, too.
If you missed those opportunities to see it with a crowd, Alabama residents can still catch it this month on Alabama Public Television. Some upcoming times are:
—> Friday, Sept. 18, 9 p.m.
—> Monday, Sept. 21, 9 p.m.
Rusty and Beth have been busy greeting customers who have stopped by wanting to taste the Bar-B-Q they saw on TV. And of course, you can come eat at Rusty's seven days a week to taste for yourself why, out of all the Bar-B-Q places in the whole state, Rusty's was chosen to be in the spotlight.
Enjoy some Alabama Bar-B-Q today at Rusty's Bar-B-Q!
To watch the trailer, go here.
Trackback from your site.