Bacon Explosion
First, I have to start by saying that this is not an original recipe. (Best I can tell, This is the original recipe.) However, it is a recipe worth sharing time and time again. I first learned of this genius culinary creation in 2013 when a friend shared it on Facebook. While intrigued, I logged the idea in my mind, and had all but dismissed it from my thoughts completely until the 2015 Atlanta Food & Wine Festival when Restaurateur and Top Chef Kevin Gillespie made it for a live demonstration. He made it look so simple – how could I not try to make it on my own? Chef Kevin made it look so delicious that I was emboldened to come back to the Rusty's Bar-B-Q kitchen and give it a try.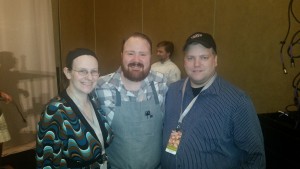 Start by gathering all of your ingredients together. You will need:
2 lbs of bacon
2 lbs of sausage (I prefer hot breakfast sausage or Italian )
1 lb of shredded cheese blend (jack and cheddar work well)
6 fresh jalapenos, roasted, seeded, and sliced
1/2 lb chopped Bar-B-Q pork (from your favorite locally owned and operated Bar-B-Q joint)
Method:
Start by chopping half of the bacon, and put it in a skillet over low heat to render (like this!).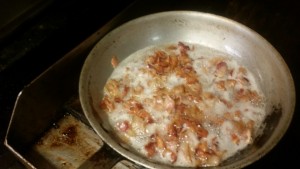 While the bacon is rendering, lay out two sheets of heavy duty aluminum foil. Now you want to weave a bacon mat. That is just what it sounds like: a layer of solid bacon, intertwined in a porky, greasy, goodness. Here is a brilliant trick of the trade to make this bacon mat more uniform: use a rolling pin to flatten the bacon slightly once it is all put together.
Next, layer your sausage onto the bacon mat, leaving about an inch all around.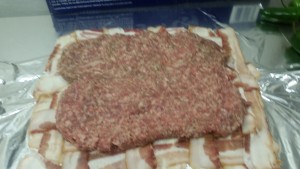 Hey, don't forget you needed to roast and slice those jalapenos!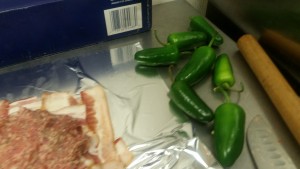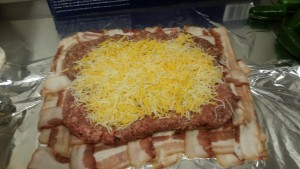 Next, pile on the cheese…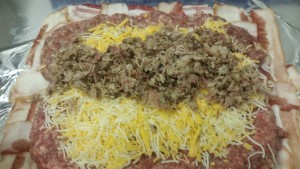 …and the pork…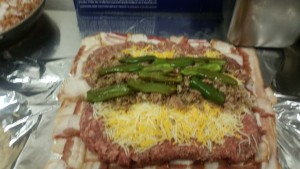 …peppers…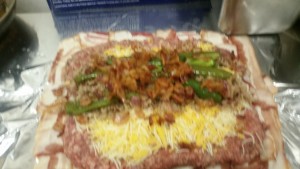 …and BACON!!!
Finally, you are ready to roll. Remember those layers of foil you put down? Here's where they come in handy. Once you roll your Bacon Monstrosity, you want to wrap the whole thing in two tight layers of foil. This will hold everything together while you cook it. (Cooking not pictured, sorry…) Put everything on the Bar-B-Q pit, or if you're playing along at home, on the grill, or in the smoker. Apply heat to meat. Once the internal temperature reaches 155 degrees, unwrap this porky goodness.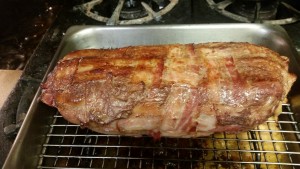 Glaze with your favorite Bar-B-Q sauce. In this case, I like a blend of Rusty's Bar-B-Q Spicy and Sweet Sauces.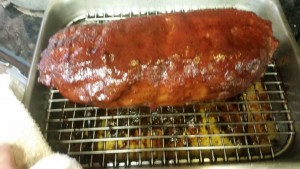 I used the oven for this part, because it's easier to control the temperature than on a pit. The goal at this point is to create a nice glaze.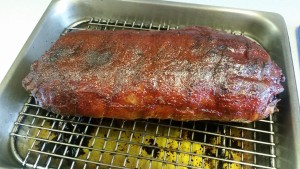 Now for the hard part. Please, wait at least 30 minutes for all of that molten cheese and bacon fat to settle down before you actually slice this thing. Use a long serrated knife to slice. Chef Kevin serves his sliced thinly on a big cat-head buttermilk biscuit. We served it at the restaurant as either a Bacon Explosion, Lettuce, and Tomato Sandwich, or as a Bacon Explosion Burger! Because there wasn't enough meat in it on its own. 🙂
We hope you enjoy this meaty treat.