2016 Winter Restaurant Week Wrap-up
Rusty's Bar-B-Q wrapped up Birmingham's inaugural Winter Restaurant Week with a bang! We loved having all of our loyal customers and some new friends stop by for our delicious specials.
Along the way, we were fortunate to get some terrific press for the event.
Rusty and James Little of REV Birmingham went on Fox 6 News' Good Day Alabama with Janice Rogers and made Philly Cheese Sliders, a special that day.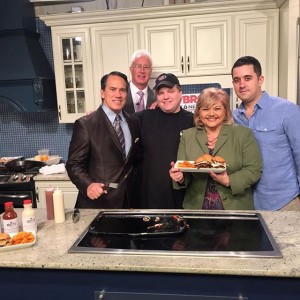 Photo credit Audrey Pannell, Style Advertising/Birmingham Restaurant Week
REV Birmingham blogger Emily Brown writes the "Dishing the 'Ham" blog for Restaurant Week, and she posted about her trip to Rusty's with her grandmother here. Her piece on Winter Restaurant Week, or, as you may recognize its hashtag, #WRW2016, appeared on the I Love Alabama Food "Alabama Food Blog" here. Rusty is honored that she called him a "true master."
Al.com included us in their coverage of Winter Restaurant Week. As you can see, we were among a very distinguished group of local establishments.
Finally, we loved all the great feedback we got for our desserts. We made a red velvet cake to get folks thinking about Valentine's Day and to show off this amazing frosting.
Thanks for all the support and stop by when you're hungry!